Head Office and Research Laboratory
Head Office
Superconductivity Research Laboratory
10-13, Shinonome 1-chome, Koto-ku, Tokyo 135-0062, Japan
Tel: +81-3-3536-5703, Fax: +81-3-3536-5717
E-mail: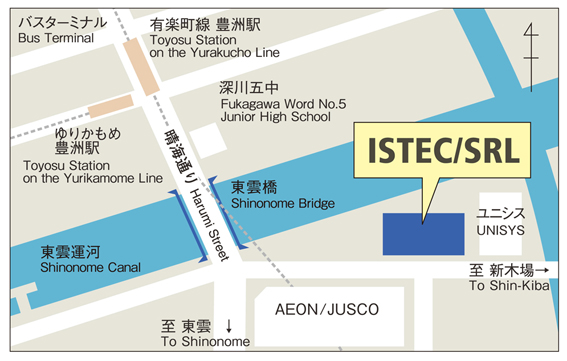 Website Management Policy
On the copyright
The whole or a part of the contents of this website may be reproduced, cited, or reprinted, for the personal use or citation based on the copyright low, if only it is clearly shown that the contents come from this website. But follow the instruction of the each information on this website if it has description on the copyright. It is not permitted to change the whole or a part of the contents on this website without permission of ISTEC.
On the link
No prior permission is required to link to the ISTEC website. However, the following links are considered to be prohibited.
o Any third party website containing contents that may offend public order or be considered as morally offensive.
o Any third party website containing contents which may cause mis-understanding concerning ISTEC's activities.
o Any third party website containing contents which may damage ISTEC's image and/or reputation, or infringe upon the rights of a specific individual and/or organization.
o Links which give the appearance that ISTEC contents or information released through the site are a part of the third-party website. (For instance, in the case where the whole or a part of a page of the ISTEC site is linked through a frame or inline frame.)

On the credit
An example of credit being given would be: "Provided by International Superconductivity Technology Center (ISTEC)","Provided by ISTEC", or "Courtesy of ISTEC"
On the exemption clause
ISTEC reserves the right to make any changes to the site or delete information at any time at its discretion. ISTEC is not liable for any damages of any kind arising from the use of the site or information content.
Others
It is recommended to watch this website with [Windows]Internet Explorer ver.8.0、Firefox ver 3.6[Macintosh] Firefox ver 3.6、 Safari ver 5 or more recent version.